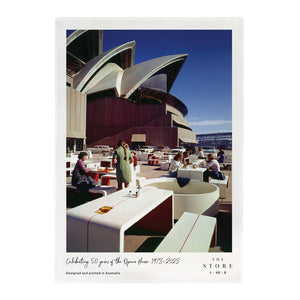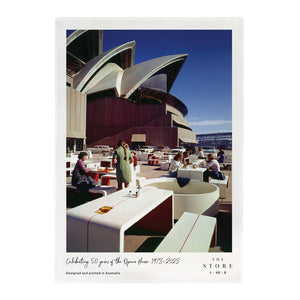 50 Years of Sydney Opera House - Tea Towel
For the 50 year anniversary of the Sydney Opera House, these limited edition tea towels will be sure to brighten up your kitchen while you step back time.
The Harbour Restaurant at the Sydney Opera House, pictured on 20 October 1973. The original Harbour Restaurant opened on the Northern Broadwalk in 1973. The harbourside fixture was a self-service outlet featuring plastic outdoor tables and chairs, and lots of seagulls. It was then a fish and chip shop, before it turned into an a la carte restaurant and renamed 180 Degrees in the 1990s. For a number of reasons, it closed in 2001 and was replaced by the marquee.
Material: 100% Linen 
Size: 50x70cm approx.
Print: Digital Print

Proudly printed in Australia by Burbia.
*This product will start shipping from 27th October
To view our whole photo collection and search for images you may have seen featured in our Mastheads
visit here