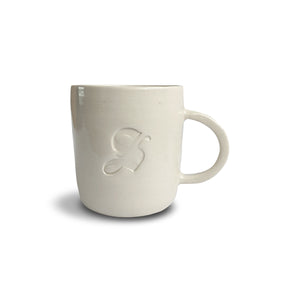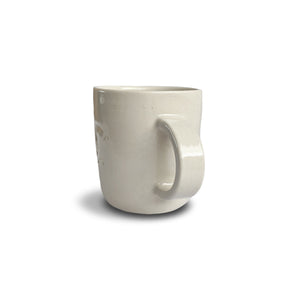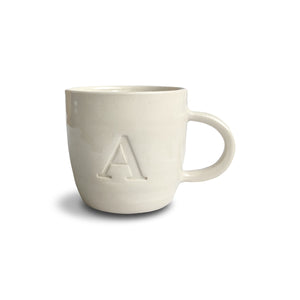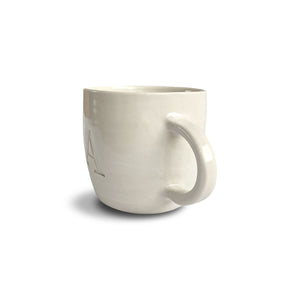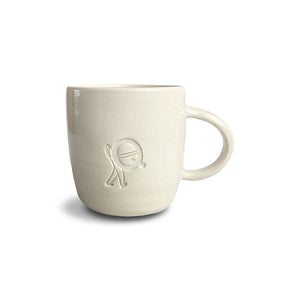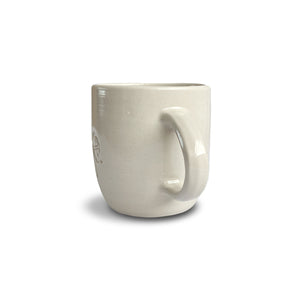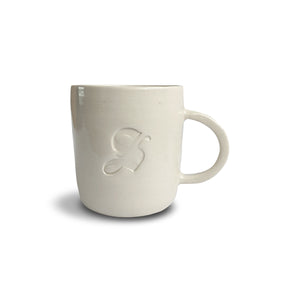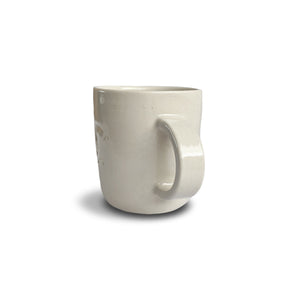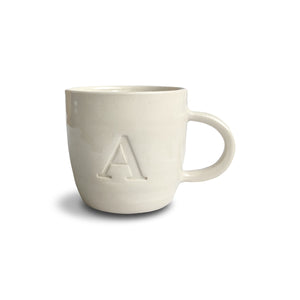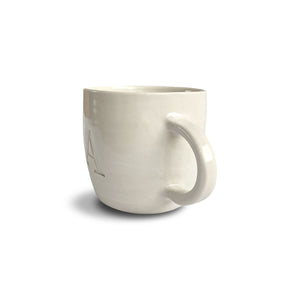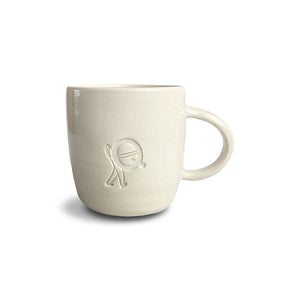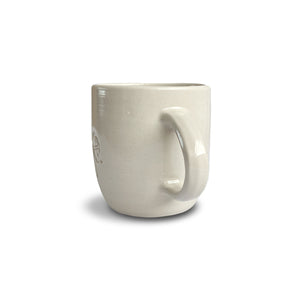 Ceramic Logo Mug
This handmade locally produced mug will sit by your newspaper or work setup daily, providing you with your favourite beverage. With options to choose your preferred masthead logo or Good Weekend Quiz. 
Made from High Fired Australian Stoneware, each mug is handmade in Melbourne, Australia by a women-led small ceramic studio, Aurora Soul Ceramics. Produced using an artesian process known as throwing, which uses the potter's wheel to create ceramic pieces. The mugs are shaped to their specific size, and their bases smoothed out so that they do not scratch any tabletop surfaces once in use. Whilst still soft and moist, each mug is stamped with the 'S/A/GW Quiz' lettering, and then each handle is individually joined. Because of the handmade nature of this process, each mug is unique and slight colour variations may occur.
They then dry out for a few days and are fired in a ceramic
kiln
reaching temperatures around 1000 Degrees Celsius. Once fired, they are dipped in a liquid glaze, which is a combination of water and raw materials, and returned into the
kiln
for the second firing where temperatures reach up to 1280 Degrees Celcius. All the raw materials contained in the glaze completely melt, turning the glaze into a glass-like coating that makes the mugs functional, and both food and water safe. This whole process takes around four weeks and is entirely handmade.
Care instructions:
Each mug is made using Australian, non-toxic, food-safe clays and glazes. Each piece is fired to extremely high temperatures, making them strong and durable. The mugs are dishwasher and microwave safe. Avoid using scrubbing pads when cleaning as doing so can result in scratches. Take care to avoid sudden temperature changes (for example from the oven to a cold benchtop) as this is likely to cause thermal shock which can result in the piece cracking. Hand wash before first use. 
Dimensions: 
9.5cm x 9.5cm. Capacity 400ml. 
Print Media
Photographic Paper
Our photographic prints are printed on archival quality Kodak endura paper with a lustre finish.
Fine Art Paper
Our fine art prints are a 315gsm heavy weight paper, which has a natural white matte finish with a coarse surface. Recommended for black and white photos and illustrations.
Canvas Print
Our canvas prints are 390gsm cotton and feature a smooth matte finish with a bright white base. Unframed canvas prints will come stretched ready to hang. Framed Canvas prints will include a timber frame on the outside of the stretched canvas frame.
Print Sizes
The print sizes offered are standard photographic paper sizes. Images are all different aspect ratios so images will be printed to the closest print size available which in some cases will result in a white border on an unframed print. If you are after prints that will all match once framed please get in touch and we can arrange for cropping of images and size matching for your prints.
Print Sizes
40 x 30 cm - 12 x 16 in
60 x 40 cm - 16 x 24 in
75 x 50 cm - 30 x 20 in
90 x 60 cm - 36 x 24 in
Framing Options
We offer framing in Natural, White and Black. All paper based prints will be framed under a 70mm matte board with the exception of the largest size which will include a 70mm border around the print.
Shipping
COVID-19
We are experiencing delays due to COVID-19. Unframed prints are still being shipped out within normal time frames but framed prints and canvas prints are taking longer than usual. Current time frame is 15-20 days. Short delays are to be expected with our shipping partners also.
Unframed Prints
Unframed prints are shipped out within 10-15 business days.
Framed and Canvas Prints
Framed prints and canvas are shipped out within 10-15 business days.
About the Photographer:
To view our whole photo collection and search for images you may have seen featured in our Mastheads
visit here