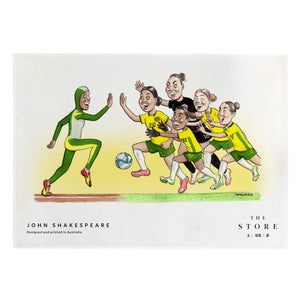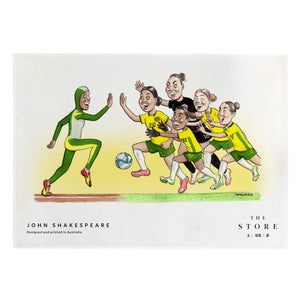 Matildas - Tea Towel
To celebrate the incredible achievement the Matlidas have had in the 2023 FIFA Women's World Cup and how the team have changed women's football in Australia, we present this inspiring illustration by artist John Shakespeare for the Sydney Morning Herald.
Cathy Freeman's performance to win the Olympic 400-metre title at the Sydney Olympics invoked hope, inspiration and pride, something that the Matlidas have recreated in their performance this world cup. Hang your tea towel proud and remember the camaraderie that stopped the nation. 

Material: Cotton/Linen Blend
Size: 50x70cm approx.
Print: Digital Print

Proudly printed in Australia by Burbia.
*Delivery of this item is from 1st September
Only 7 left!
To view our whole photo collection and search for images you may have seen featured in our Mastheads
visit here